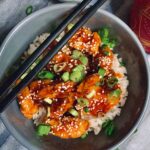 Print Recipe
Sesame Chicken
Ingredients
1

Pack

Chicken Tenderloin

1

Tbsp

Sesame Oil

4

Garlic Cloves

Grated

1

Tbsp

Sweet Cooking Rice Seasoning

2

Tbsp

Honey

1

Tbsp

Chili Garlic Sauce

3

Tbsp

Ketchup

1

Tbsp

Oyster Sauce

2

Tbsp

Brown Sugar

1/4

Cup

Seasoning Sauce or Soy Sauce

3

Green Onions

For Garnish

2

Eggs

3/4

Cup

Cornstarch

3/4

Cup

Flour

1

Tsp

Black Pepper

2

Tsp

Paprika

1

Tsp

Garlic Salt

Oil

Sesame Seeds

For Garnish
Instructions
Make the sauce first: In a bowl combine the sesame oil, grated garlic cloves, sweet cooking rice seasoning, honey, chili garlic sauce, ketchup, oyster sauce, brown sugar, seasoning sauce OR soy sauce. (Don't use seasoning sauce AND soy sauce, pick one or the other)

After you're done mixing the sauce set it aside.

Chop up the green onions then set aside.

Chop up the chicken tenderloin into bite size pieces then set aside.

In a bowl whisk two eggs until combined.

In a separate bowl/plate place the cornstarch.

In a separate bowl/plate place the flour and combine with garlic salt, black pepper, and paprika.

Coat the chicken in the eggs, then the cornstarch, then the flour. Always shake off the excess.

Once all the chicken is coated get a pan and put enough oil to cover the bottom and be generous with it.

Once pan is hot put chicken in the pan and let sit on one side for 2 minutes. Flip every 2 minutes for a total of 7 minutes. Do not overcrowd the pan, fry in batches if needed.

After all the chicken is fried set aside.

Lower the heat to low and take out the excess oil in the pan.

Once pan is cleaned out put the sauce in the pan and let it simmer

Once sauce is simmering combine the chicken and make sure all the pieces are coated then turn off the heat.

Garnish with sesame seeds and green onions.