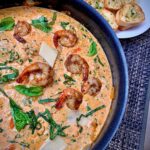 Print Recipe
Shrimp & Lobster Pasta
Ingredients
3

Tbsp.

Butter

2

Tsp.

Olive Oil

15

Medium Sized Shrimp

2

Lobster Tails

5

Garlic Cloves

Minced

1

White Onion

Minced

Parsley

Handful

1/4

Cup

Basil

Ribbons

4

Tbsp.

Tomato Puree

3/4

Cup

Heavy Cream

3/4

Cup

Milk

Paprika

To Taste

Salt

To Taste

Black Pepper

To Taste

Garlic Salt

To Taste

Italian Seasoning

To Taste

Sliced Parmesan Cheese

To Taste

Linguine

Pasta

Water

Dash
Instructions
Follow directions to cook Linguine Pasta.

In a pan over medium high heat melt butter and olive oil.

When melted add garlic cloves and cook until fragrant.

Add shrimp and lobster and season with paprika, half of the basil basil, Italian seasoning and garlic salt. Cook until pink.

Remove shrimp and lobster with ALL of the garlic butter sauce and set aside in a bowl.

In the same pan add in the white onion and cook until brown. Add more butter if needed with a dash of water.

Pour in milk, heavy cream & bring to a simmer. Season with black pepper, salt, garlic salt, and tomato puree.

Add shrimp and lobster with ALL the garlic butter sauce back into the pan.

Add the handful of parsley, the other half of the basil, and a small amount of parmsean cheese. Not too much cheese otherwise the sauce will thicken.

Serve over pasta and enjoy!