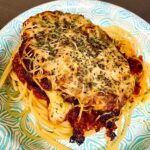 Print Recipe
Chicken Parmesan
I made this recipe for one person as I am someone that randomly craves chicken parm at the oddest times.
Ingredients
1

Chicken Breast

3

Tbsp

Brown Sugar

1

Tbsp

Chili Powder

1

Tsp

Parsley Flakes

1/2

Tsp

Salt

1/2

Tsp

Black Pepper

1/2

Tsp

Garlic Powder

1/2

Tsp

Onion Powder

1/2

Tsp

Cumin

Flour

Enough to coat chicken breast

Bread Crumbs

Enough to coat chicken breast

Eggs (beaten)

Enough to coat chicken breast

Mozzarella Cheese

Enough to stuff chicken breast

Tomato Sauce

To taste

Parmesan Cheese

Enough to cover chicken breast

Basil

To taste

Oil for frying

Enough to cover the bottom of the pan
Instructions
In a bowl combine the brown sugar, chili powder, parsley flakes, salt, black pepper, garlic powder, onion powder, cumin.

Cut a pocket into the chicken breast.

Add the chicken breast into the bowl with the seasoning.

Remove the seasoned chicken breast from the bowl and put onto a plate.

Stuff the pocket of the chicken breast with mozzarella cheese.

Seal the edges of the pocket the best you can.

Separate the flour, beaten eggs, and bread crumbs onto 3 different plates.

Coat the chicken in flour, next coat chicken in the eggs, then coat chicken in the bread crumb.

Heat oil in a pan over medium high heat.

Fry the chicken until it's golden brown on both sides.

Place some tomato sauce on the bottom of a baking dish then put the chicken breast on top.

Cover top of chicken breast with tomato sauce then sprinkle parmesan cheese and basil on top.