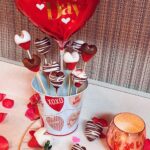 Print Recipe
Heart Shaped Chocolate Covered Strawberries
Perfect for Valentines Day
Ingredients
1

Pack

Strawberries

Almond Bark/Melting Chocolate

1

Pack

Skewers

1

Pasta Strainer
Instructions
Rinse off all of the strawberries.

Pat all of the strawberries until they're dry then let the strawberries sit for an hour to get to room temperature.

Pull off the green stem leaves.

Cut a V Shape into the tops of the strawberries, removing the stem in the process.

Get your chocolate of choice and melt in a bowl/cup for 1 minute.

Take a skewer and insert into the bottom of the strawberry then dip half way into the melted chocolate.

Take the skewer and put in strainer to let the strawberry dry evenly.

See video for decorating tips otherwise enjoy!

For best results put the strawberries in the fridge once dry after dipping.
Video